두부 김치 (Doo-bu Kimchi : Tofu Kimchi)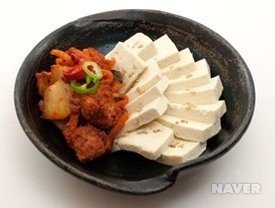 I make this dish all the time for the guests because it is SUPER EASY and Yummy!
집에 오는 손님을 위해서 제가 자주 만드는 음식이에요.  아주 쉽고 맛있어요.
1. Slice FIRM Tofu about a half inch and fry them both side for 10 mins. (I like CRISPY!!!!!)
두부를 썰고 양쪽을 10분 간 부쳐요.
2. Cut Kimchi as small pieces fry Kimchi with a little bit of sugar for 10 mins.
김치를 잘게 썰고 10분 간 볶아요.
IT's DONE!
끝났어요!
***** Tip : If you don't want to make your cutting board BLOODY RED, you can cut Kimchi with SCISSORS.
도마를 빨갛게 만들고 싶지 않으면, 가위를 쓰세요.
My husband and I have this with 막걸리(Mahk-ggul-li : Korean milky rice wine). Mmmmmmm…
제 남편하고 저는 두부김치를 막걸리하고 같이 먹어요.
Honey!  Today's dinner is 두부 김치~
여보! 오늘 저녁은 두부김치예요~